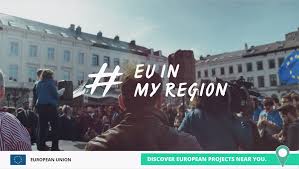 Europe in My Region is a European Union-wide campaign encouraging citizens to discover European projects near them.
In 2017, four different initiatives – project openings, a photo contest, a project hunt and a blogging contest – invite the public to visit projects, share images and experiences via social media.
Thousands of EU projects open their doors mainly in May, a project hunt is organised from 2 May to 14 June, and a photo contest and a blogging contest run from 2 May to 28 August.
Did you know that thousands of projects across Europe receive regional funding from the European Union (EU) each year? They could be anything from a support programme for small businesses to improved public transport or greener energy use. In the Europe in My Region photo competition we will not only accept photos of projects co-financed by the European Regional Development Fund or the Cohesion Fund but from any EU fund, if the photo provides evidence of the EU co-funding. Find out more about the EU's Regional policy and other EU funds.
Discover, play and win trips across Europe!
To enter the competition, all you need to do is take a photo of a project receiving EU funding you know or have seen, with the EU funding information and the EU flag somewhere in the picture.
How to take part in 3 easy steps:
Spot an EU-funded project
Take a photo: EU flag and funding information should be clearly visible somewhere in the picture
Submit up to 3 photos via the APP
The deadline for submitting up to 3 photos is 27 August 2017, 23:59 Central European Summer Time.
For more information: ec.europa.eu